SUB 40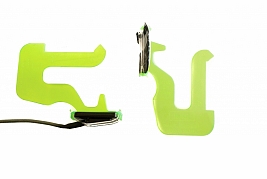 SUB40 (transparent green) fits size 2 phosphorplates & films in a horizontal orientation. SUB40 also fits size 1 Sensors.
Ideal for routine bitewing (HBW) images, but it can also take periapical (PA) views especially wisdom tooth views by sliding the image recorder up or down, or PAs and endodontic shots of the posterior/buccal teeth with reamers and rubber dam place, where the 1shotdental holder can be hand - finger/thumb held on the tooth, and also takes pedodontic images.
Takes all horz BWs, post PAs & Endodontic shots.
FREE Worldwide air-post Delivery (4-10 working days). For quicker delivery choose World-wide Courier Post shipping in the products section - with tracking for an extra US$ 20.00
SUB 40 Box - Option A
SUB 40 Box Contains:
8x SUB40 holders - trans green
64x SUB bands - clear
Instructions
1shot Ref Code: 1shotSUB40-8+
SUB 40 Small Box - Option B
SUB 40 Small Box Contains:
1x SUB40 holders - trans green
8x SUB bands - clear
Instructions
1shot Ref Code: 1shotSUB40-1+