Phosphor Plate / Film MULTI-FIT box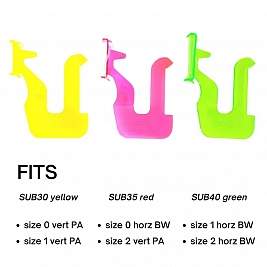 Fits Phosphor Plates / Film size 0,1&2
Takes all horz & vert BWs, ant & post PAs & Endodontic shots (and sensors size 1.5, 1 & 0).
- 4x SUB40 BW & post PA & endo fits size 2&1, PSP/Film horizontal BW (transparent green);
- 2x SUB35 ant & post PA & endo fits size 0 horizontal BW; size2 PSP/Film vertical PA (transparent red);
- 2x SUB30 ant & post PA & endo fits size 0&1 vertical PA (transparent yellow).
Box Contains:
4x SUB40 holder - transparent green
2x SUB35 holder - transparent red
2x SUB30holder - transparent yellow
64x SUB bands - clear
Instructions
1shot Ref Code: 1shot SUB-Multi-8+
FREE Wordwide air-post Delivery (4-10 working days). For quicker delivery choose World-wide Courier-Post shipping in the products section for an extra US$ 25.00. Note - If you choose 1x item to be Courier-posted, then the whole order will be sent by Courier-Post.